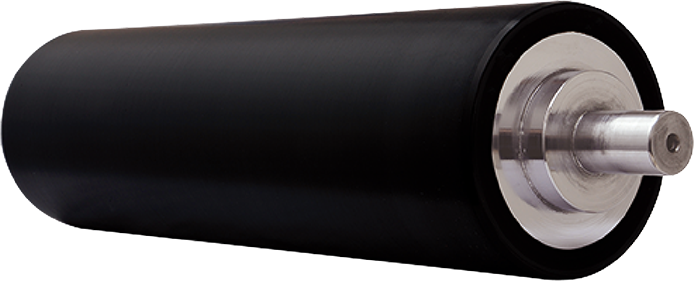 Conductive Silicone Rubber Rolls
IT68S-Black
Silicone rubber is an insulating material, so we have compounded it with a conductive, carbon filler by our original processing technology. Our silicone rolls have "conductivity" as well as "heat resistance" and "mold releasability".
Application
Laminating roll (electrostatic countermeasure application)
Features

■Seamless processing
(normal compound only)
No processing traces such as seams that occur during general rubber molding.
■Effective for static electricity
Since the silicone rubber is given "conductivity", no static electricity is generated during use.
■Compound can be designed according to the purpose of use.
■Excellent mold releasability and heat resistance
Since the material is silicone rubber, it has excellent properties of mold release effect and heat resistance.
Specification
Compound
Normal
compound
High
strength
compound
Hardness
Durometer A
50~80
40~80
Rubber type
RTV Silicone rubber
HTV Silicone rubber
Appearance
Black
Black
Volume resistivity*
(Ω・㎝)
107 or less
※Complies with JIS K 6271-2001 (Dual-ring electrode method).
Process examples
■T-die laminating process example
Contact to Chemical Synthetic Products Division