RTV Silicone Rubber Rolls
IT68S-Matte
The roll is lined with silicone rubber RTV (Room Temperature Vulcanizing).
Allows adjustment of surface roughness depending on your application.
Application
Sheeting roll
Embossed roll
Embossed back roll
Features

■Seamless processing
No processing traces such as seams that occur during general rubber molding.
■Liquid RTV (Room Temperature Vulcanizing) silicone rubber
■Compound design suitable for each application
■Excellent mold releasability and heat resistance
Since the material is silicone rubber, it has excellent mold release effect and heat resistance.
Structure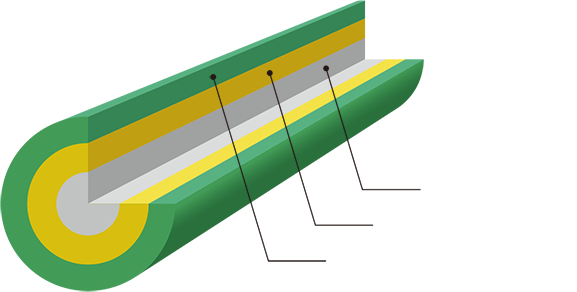 Base material (metal core)
Intermediate layer : IT68S-H or Synthetic rubber
Outer layer : IT68S-Smooth
Metal core bar can be bonded as is or can be bonded with a synthetic rubber (EPT/NBR) layer.
New surface layer re-installation is available (rewinding).
Standard of surface roughness
| Particle size | IT68S-Smooth | ♯240 | ♯280 | ♯320 | ♯400 | ♯500 |
| --- | --- | --- | --- | --- | --- | --- |
| Surface roughness (Ra) | 1.2±0.5μm | 5.0±2μm | 4.5±2μm | 4.0±2μm | 3.0±1μm | 2.5±1μm |
| Particle size | ♯600 | ♯700 | ♯800 | ♯1000 | ♯1200 | ♯1500 |
| --- | --- | --- | --- | --- | --- | --- |
| Surface roughness (Ra) | 2.0±1μm | 1.8±0.5μm | 1.5±0.5μm | 1.3±0.5μm | 1.3±0.5μm | 1.3±0.5μm |
※Complies with JIS B 0601
Process examples
■T-die sheeting process example

■T-die laminating process example

■Embosser process example

■Calendar sheeting process example
Contact to Chemical Synthetic Products Division