RTV Silicone Rubber Rolls
IT68S-Smooth
The roll is lined with silicone rubber RTV (Room Temperature Vulcanizing).
Allows adjustment of compound and rubber hardness depending on your application.
Application
Sheeting roll
Embossed roll
Embossed back roll
Features

■Seamless processing
No processing traces such as seams that occur during general rubber molding.
■Liquid RTV (Room Temperature Vulcanizing) silicone rubber
■Compound design suitable for each application
■Excellent mold releasability and heat resistance
Since the material is silicone rubber, it has excellent mold release effect and heat resistance.
Structure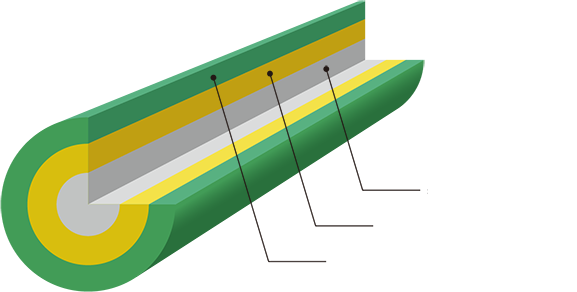 Base material (metal core)
Intermediate layer : IT68S-H or Synthetic rubber
Outer layer : IT68S-Smooth
Metal core bar can be bonded as is or can be bonded with a synthetic rubber (EPT/NBR) layer.
New surface layer re-installation is available (rewinding).
Compound design suitable for each application
Compound
Normal
compound
Mold
releasable
compound
High mold
releasable
compound
High
strength
compound
Abrasion
resistance
compound
Hardness
Durometer A
40~85
50~80
50~75
40~80
40~80
IT68S-Smooth
Silicone rubber is a material with superior mold release effect compared to EPT and NBR.
Among them, the RTV silicone rubber used in IT68S-Smooth is a rubber with an excellent mold release effect compounding.
Process examples
■T-die sheeting process example

■T-die laminating process example

■Embosser process example

■Calendar sheeting process example
Contact to Chemical Synthetic Products Division