Striving to be a "small" Global Enterprise
"Mochida Shoji Co., Ltd.," was established in 1950 as a woolen cloth wholesaler in Iwamoto-cho, Tokyo. Although originating as a trading firm, to keep our customer-centric origins and ensure that we maintain our high-quality standards, we established a research lab and manufacturing department to improve on our original technologies and authentic style. In 1955 we reformed into the current "Mochida Corporation" to reflect our growth. We keep our keeping up to date with the latest technologies to streamline efficiency with no impact to quality.
Keeping with our founders' vision and guiding principles on making our customers the highest priority, we pursue continuous improvement of our skills and technologies, keeping three principles at the forefront of our goals:
・The voice of the customer, and our community
・The current and upcoming trends of the market with our technology
・Relentless Solutioning- our customer problems are solvable
As markets and industries encounter higher volatility, we will continue to provide quality and value to our customers by providing customer focused solutions. Not every obstacle can be predicted, but our customers can have confidence that every member of our team considers what can be done to continuously improve our product and service to keep them competitive in the market. This focus allows us to have a global presence, but maintain a community culture, which is what it means to be a "small" global enterprise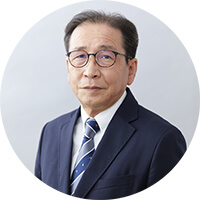 Corporate Profile
Company Name
Mochida Corporation
Founded
June 1950
Incorporated
November 1950
Capital
80 Million yen
Directors

| | |
| --- | --- |
| Executive President | Yoshinobu Isoda |
| Managing Director | Isao Kuwabara |
| Managing Director | Kazuo Yanagisawa |
| Director | Sonoe Mochida |
| Director | Masao Tatsuzawa |
| Auditor | Toshiharu Eguchi |
Business Office
Business Office
Headquarters
4F Tanabe Hamacho Bldg. 2-1-1, Nihonbashi-Hamacho,
Chuo-ku, Tokyo 103-0007 Japan
Osaka Branch
1-3-21 Tokiwa-cho, Chuo-ku, Osaka 540-0028 Japan
Osaka Office
2-9-6 Imabayashi, Higashi-Sumiyoshi-ku, Osaka 546-0001 Japan
Factory
Gunma Branch
8 Ozanuki, Meiwa-machi, Oura-gun, Gunma 370-0715 Japan
Owa Factory
2473-1 Owa, Meiwa-machi, Oura-gun, Gunma 370-0718 Japan
Subsidiaries
Mochida Pleats Works Co., Ltd.
Mochida International Trading (Shanghai) Co.,Ltd.
History
November
Established Mochida Trading Co., Ltd. as a Woolen wholesaler in Iwamoto-cho, Chiyoda-ku, Tokyo
March
Rename to Mochida Corporation for the purpose of establishing manufacturing department
June
Opened the first factory for pleat processing in Maekawa, Kawaguchi-shi, Saitama.
October
Opened the second factory for lace manufacturing and raising processing in Maekawa, Kawaguchi-shi, Saitama
April
Established a laboratory on the second factory site
December
Opened Osaka branch in Tokiwa-machi, Chuo-ku, Osaka as a base for the Kansai region of the Textile Division
September
Reorganized the first factory into Mochida Chemical Processing Co., Ltd. and the Second factory as Morpho Industry Co., Ltd. as independent companies
July
Opened a Development factory on the site of Morpho Industry Co., Ltd.
November
Completion of headquarters building
March
Relocated Morpho Industry Co., Ltd. to Meiwa-machi, Ora-gun, Gunma
January
Started operation as Kawaguchi factory of Chemical Synthetic Products Division, independent from the Development factory
October
Opened Osaka office of Chemical Synthetic Products Division in Sayama-shi, Osaka
September
Relocated the Osaka office of Chemical Synthetic Products Division to Higashi Sumiyoshi-ku, Osaka-City
June
Established a factory for Chemical Synthetic Products Division on the site of Morpho Industry Co., Ltd.
November
Established Mochida Hong Kong Co., Ltd. as a laminating factory of brassiere cup material in Hong Kong
September
Established Mochida International Trading (Shanghai) Co., Ltd. in Shanghai, China
April

October

Merged Morpho Industry Co., Ltd. as Meiwa Factory of Polymeric Compounds Division
Established KomoTech Co., Ltd. in Gyeongsangbuk-do, Korea as an overseas production base for Polymeric Compounds Division
January
Relocated the Chemical Synthetic Products Division Kawaguchi factory and laboratory to the Meiwa factory site and started operation as Gunma Branch
November
Expanded production capacity to expand the scale of the Osaka office
January
Closed KomoTech Co., Ltd.
March
April
Relocated the headquarters to Nihonbashi-Hamacho, Chuo-ku, Tokyo
Established a Textile Division factory in Owa, Meiwa-machi, Ora-gun, Gunma
ISO

Registered Organization

Mochida Corporation
Polymeric Compounds Division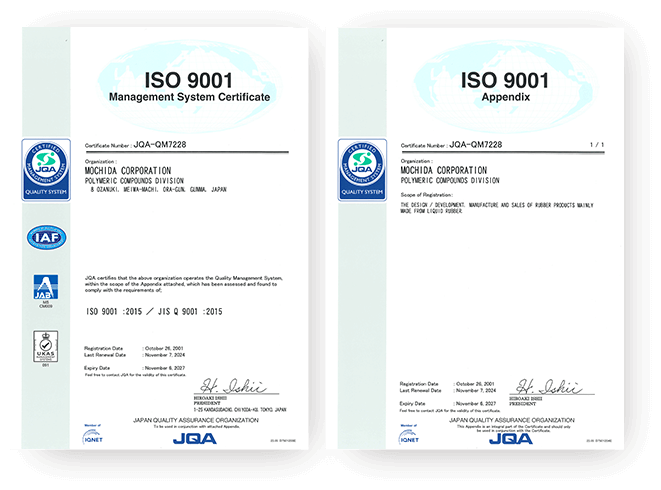 Registered Organization

Mochida Corporation
Gunma Branch