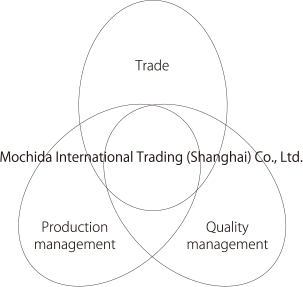 Mochida International Trading (Shanghai) Co., Ltd.
Our company was established as Wholly foreign owned trading enterprise in Pudong, Shanghai in 2003.
As our main activity, we utilize the know-how of apparel materials and subsidiary materials from our Japan Textile Division to plan and manufacture value-added materials that utilize local materials in China. We offer these materials to Japanese companies in China and to customers in Japan.
In recent years, we have been importing and selling high quality made-in-Japan materials, such as special rubber rolls from Chemical Synthetic Products Division of Mochida Corporation and Thermal release sheets from Polymeric Compounds Division of Mochida Corporation, to Japanese companies in China, Taiwanese companies, and local companies in China.
The Japanese and Chinese markets are constantly changing.
We, Mochida International Trading employees, have a mission to continue responding to the customers' requests, and will continue to make proposals in response to all the changes that may occur.
Products
■Apparel product manufacturing
■Imported products
Corporate Profile
| | |
| --- | --- |
| Company Name | Mochida International Trading (Shanghai) Co., Ltd. |
| Corporate form | Wholly foreign owned trading enterprise |
| Capital | 500,000 dollars |
| Director | Kazuo Yanagisawa |
| Managing Director | Keizo Yamamoto / Masayuki Sakiyama |
| General Manager | Kazuo Yanagisawa |
| Address | 9F Zhao Feng World Trade Bldg., No369 Jiang Su Road, Shanghai,China |
| Phone number | 021-5240-1346 、 021-5240-1347 、 021-5240-1348 |