Elemac sheet
It shields electromagnetic waves that generated from construction tools and power supply cables, etc., and gives additional protection to electronic devices while an electronic device room is being expanded or refurbished.
■Applications
For construction (electronic exchange room, computer room, etc.)
◇Temporary partition curing
◇Floor and ceiling curing
General industrial use
◇Simple partitioning for OA equipment, measuring equipment, etc.
◇Antistatic flooring
◇Measures against electromagnetic interference (EMI) in clean rooms, factories, etc.
◇Curtain for medical equipment
■Features
◇Electromagnetic wave shielding effect
Shielding effect of about 20dB in high frequency band.
◇Antistatic property
Since it is a three-layered sheet with a soft polyvinyl chloride film insulation on the surface and an aluminum vapor deposition film inside, it has a high antistatic effect.
◇Flame retardance
The flame retardant sheet that has passed JIS A1322 Disaster Prevention Level 2 and MVSS No.302 self-extinguishing properties.
◇Transparency
Since there is transparency, safety can be ensured during construction.
◇Workability
Eliminates the need for grounding and improves work efficiency by reducing weight.
There are SA type with excellent transparency, and MA type with improved electromagnetic shielding performance in the high frequency band by eliminating transparency.
Example of use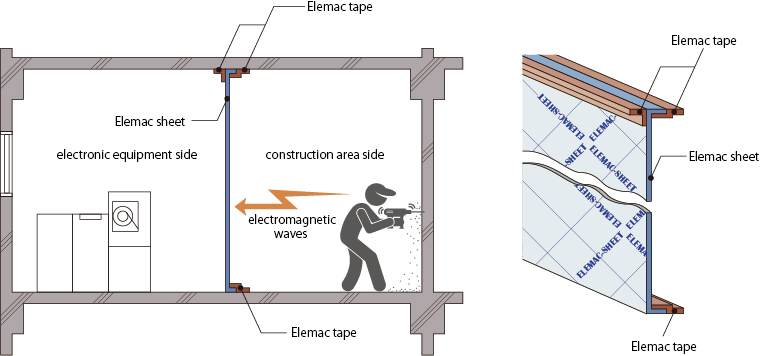 Notes on construction
◇Install so that the plain surface of Elemac sheet is on the electronic equipment side.
◇Bend the folding part of the Elemac sheet to the construction area side of the ceiling and floor, and fasten it with Elemac tape.
◇There is no need to ground the Elemac sheet body.
Size
■Product size
| | Thickness | Width | Length((Area) |
| --- | --- | --- | --- |
| SA type | 0.084㎜ | 120㎝ | 50m(60㎡) |
| MA type | 0.084㎜ | 120㎝ | 50m(60㎡) |
■Elemac tape size
| | Width | Length |
| --- | --- | --- |
| ELEMAC 45 | 45㎜ | 50m |
| ELSEMAC 95 | 95㎜ | 50m |
Contact to Polymeric Compounds Division