TG sheet
This adhesive sheet uses a special elastomer and if it gets dirty, simply washing it with water restores its adhesive strength, so it can be used repeatedly and has excellent transparency and removability.
Applications
◇Temporary fixing of posters and other postings
◇Prevention of products slipping or falling.
◇Carpet, mat fixing, etc.
Features
◇Excellent removability and no glue residue
◇The marks are not noticeable since the transparency is high.
◇The adhesive strength can be restored by washing it with water if it gets dirty.
There are three types: one-sided type, double-sided type, and different adhesive type (single-sided strong adhesive), depending on the configuration of the adhesive surface.
TG sheet One-sided type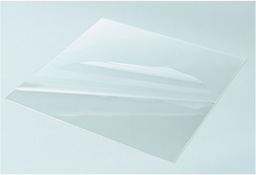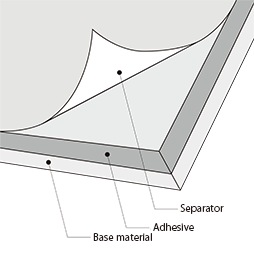 TG sheet Double-sided type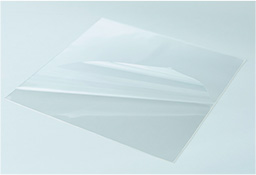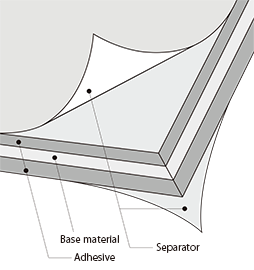 TG sheet Different adhesive type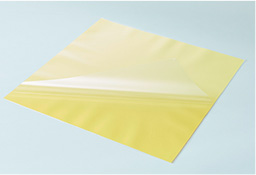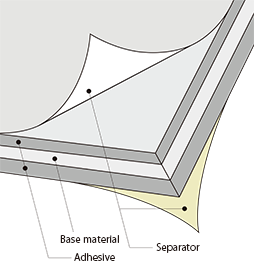 General characteristics
Item
Characteristic
Measuring method
TG surface grad
#80
Adhesive force
250 gf/25mm
JIS Z0237Conform
Hardness
14
Asker C hardness tester
Tensile strength
0.66 MPa
JIS K6251Conform
Elongation
480%
JIS K6251Conform
Tear strength
2.7 N/mm
JIS K6252Conform
Heat-resistant
No abnormality
JIS K6380 BⅢ Heat aging100℃ 70hrs
Hot water resistance
No abnormality
JIS K6301 Hot water 100℃ 24hrs
Low temperature bending test
No abnormality
JIS K6380 Low temperature -40℃ 3hrs
Stickiness after heat aging
415 gf/14mm
80℃x300hrs Pickup type tack meter
440 gf/14mm
80℃x500hrs Pickup type tack meter
442 gf/14mm
80℃x1000hrs Pickup type tack meter
Light resistance Discoloration
4th grade537gf/14mm
80℃x100hrs Weather meter (No rain)
Light resistance Stickiness
No contamination
Pickup type tack meter
Transferability
Passed toy standards
JIS K6403Conform
Safety
Food Sanitation Act
Toy standards
800gf/25mm
Ministry of Health and Welfare Notification No.85
Strong adhesive surface
Adhesive strength
JIS Z0237Conform
※The above values are representative values, not standard values.
Precautions for use and storage of TG Sheet
◇It may deteriorate or dissolve due to direct sunlight and temperature.
◇It may be difficult to peel off depending on the object.
◇Do not use for materials that contain a lot of soft vinyl chloride or plasticizer.
Contact to Polymeric Compounds Division