IT sheet
This product of silicone rubber lining on a glass cloth substrate has excellent heat resistance, old release effect, durability, and solvent resistance. It can also be used for packing materials and non-slip materials for electronic equipment and machine tools.
Two types are available: double-sided silicone type, single-sided silicone and single-sided adhesive type.
IT8G-D2
A composite sheet in which silicone rubber with excellent heat resistance and cushioning is lined on both sides of a glass cloth substrate.
Applications
◇FPC cover lay film thermocompression assist ・Buffer material
◇Thermocompression bonding aids and cushioning materials for printed circuit board production
Features
◇Uniform pressure distribution and thermal conductivity can be obtained in thermocompression bonding due to excellent dimensional stability and cushioning.
◇It has durability that can be used repeatedly.
◇Excellent heat resistance and mold release effect.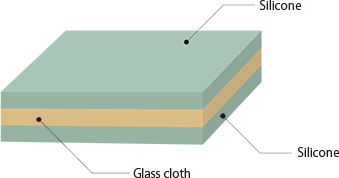 | Item | Unit | IT8G-D2 |
| --- | --- | --- |
| Color | - | Green |
| Thickness | mm | 0.8 |
| Width | mm | 200~1,000 |
| Length | M | 10 |
| Rubber hardness(JIS A) | Hs | 45 |
IT8G-A2
This is a composite sheet in which a silicone rubber with excellent heat resistance is lined up on one side of the glass cloth substrate and a silicone adhesive is lined up on the other side.
Applications
◇It provides release and gripping properties to a guide rolls, etc.
Features
◇Release properties and gripping properties can be easily provided by attaching to a guide-roll, etc.
◇Excellent heat resistance.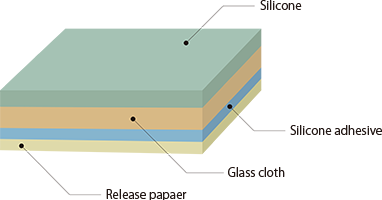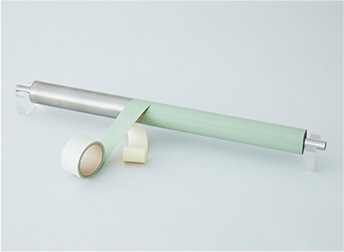 | Item | Unit | IT8G-A2 |
| --- | --- | --- |
| Color | - | Green |
| Thickness | mm | 0.4 |
| Width | mm | 50~1,000 |
| Length | M | 1~ |
| Rubber hardness(JIS A) | Hs | 60 |
Contact to Polymeric Compounds Division